COOLANGATTA, QLD / AUS (Wednesday, November 4, 2020) – After two epic Australian Grand Slam of Surfing events saw professional competition return to the ocean, the World Surf League (WSL) is excited to announce the winners of the series along with their chosen charities. The two events were part of The WSL Countdown, a global series of pre-season charitable events with the official waiting period coming to an end on October 31.

WSL Championship Tour (CT) young-guns Isabella Nichols, Mikey Wright and Ethan Ewing stamped their authority on events on the Tweed Coast and South Stradbroke Island to take top honours with Nichols claiming overall victory in the women's division and Ewing and Wright tying for the top spot in the men's. Prize money from WSL Countdown events was donated to charities nominated by the winning surfers.

After an early-round elimination at the Tweed Coast Pro, CT Rookie Isabella Nichols was stoked to find redemption with a win at the Boost Mobile Pro Gold Coast. Nichols proved she's ready for the 2021 season, narrowly overcoming two-time WSL World Champion Tyler Wright to take the series win for Canteen Australia who she will donate $20,000 dollars to.

"Canteen has always been a charity that I've looked at as being 100% invested in bringing joy to all the amazing young people they support," Nichols said. "Empowering young people that have been affected by cancer and making them realise that they aren't alone is a pretty great thing they are doing. I'm genuinely more excited about the win knowing that it's going towards a great cause. It's such an amazing initiative that the WSL has put forward with the Countdown Series, it almost feels like a team sport instead of on an individual one, knowing that I'm surfing for my chosen charity and, that in doing well, I can make a positive change."

John Friedsam, General Manager of Fundraising at Canteen couldn't be happier with the charity's ongoing association with rising star Isabella Nichols.

"We are thrilled that Bella has taken out the Australian Grand Slam of Surfing," Friedsam said. "It feels like she has brought all of our young people who are dealing with a cancer diagnosis with her on the journey to the top and we couldn't be prouder. As well as Bella's talent, skill and athleticism, we continue to be inspired by her generous spirit and her deep support of and connection to Canteen. As Bella's chosen charity, we're honoured to receive the $20,000 in funding thanks to her incredible win, which will go towards meeting the increased demand for counselling and support via our online platform, Canteen Connect, which has seen an 83% surge in logins during COVID."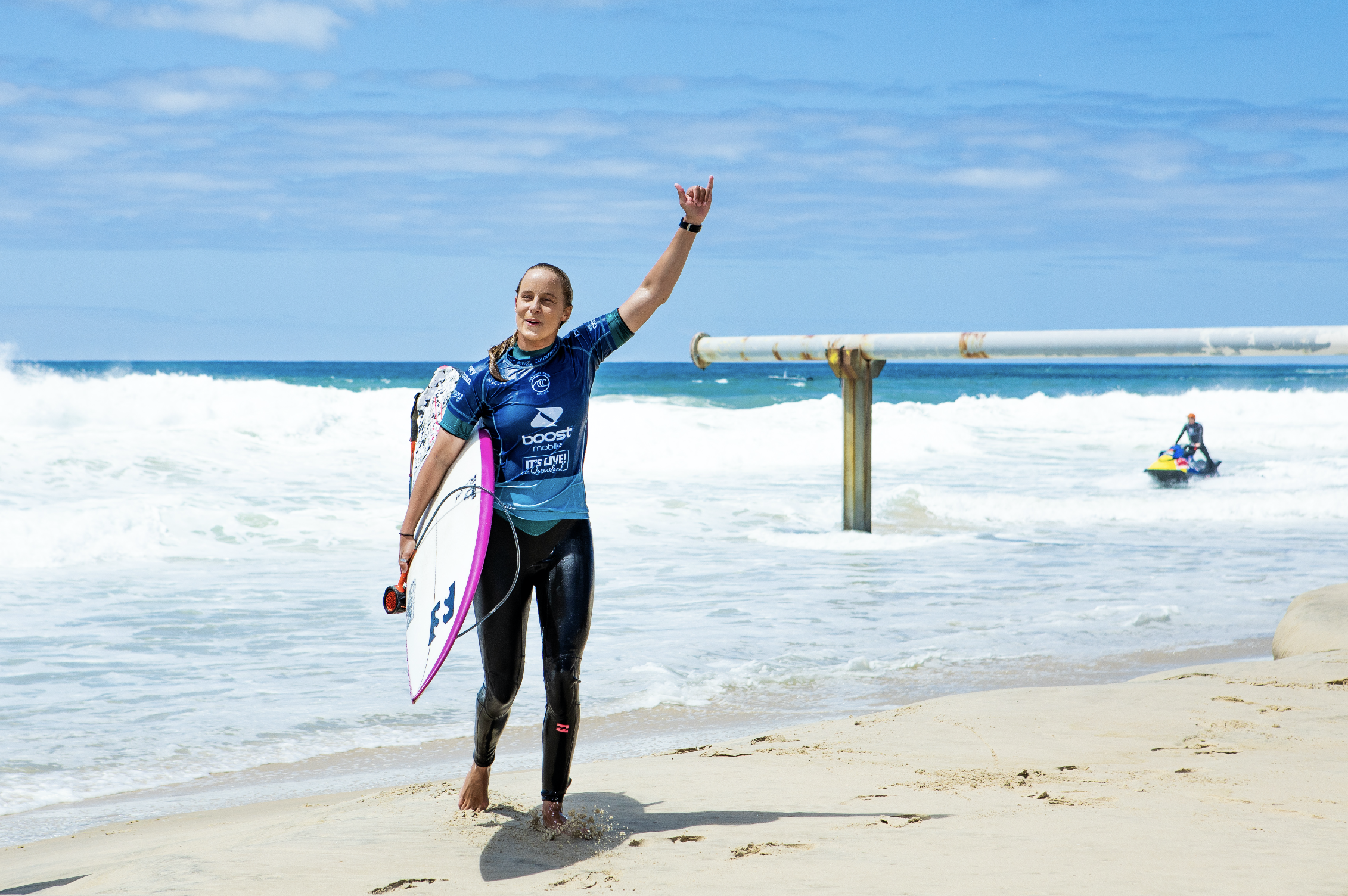 Caption: Isabella Nichols will donate her $20,000 prize money to Canteen Australia.
Credit: WSL / Cestari

Both Ethan Ewing and Mikey Wright finished the Australian Grand Slam of Surfing series with a first and third-place finish to their names meaning the pair tied the series and will split the $20,000 between their chosen charities.

Wright will be donating his winnings to Kulai Preschool Aboriginal Corporation, a not for profit organisation that provides an early childhood education program for up to 100 Aboriginal children aged 3 – 5 in the Coffs Harbour region. They encourage children to be independent, culturally strong and academically successful.

"Kulai Preschool Aboriginal Corporation was the organisation I chose as it is a place I have spent some time over the last few years," Wright said. "When I'm in the Coffs Harbour area I go down there with my dog 'Bacon' and the kids love him and always ask after him when I'm not there. Drawing the series was a great feeling but it has definitely been made sweeter knowing the prize money is going to a good cause. I can't wait to see what it can do for the kids."

"We were so excited to hear the great news from Mikey who personally came in to let us know of the donation," said Kulai Director Julie Carey. "Mikey is a huge part of the Kulai community and he is an inspiration to the children. The whole Kulai community were supporting Mikey in his event whilst we were on school holidays — we were all glued to our screens cheering him on in every heat. This significant donation will go towards purchasing resources that support our children's learning and development. It will also provide assistance for our children in their transition from an Aboriginal family-based learning environment into the mainstream system. A huge thank you to the World Surf League for their support and generous donation."



Caption: Mikey Wright has chosen Kulai Preschool Aboriginal Corporation as the recipient of his winnings.
Credit: WSL / Cestari

CT comeback kid Ewing will be donating $10,000 to Take 3 for the Sea, an organisation that aligns with his passion for cleaner oceans and beaches. Sarah Beard, Take 3 for the Sea CEO, was thrilled that Ewing picked their organisation ahead of such a commanding performance.

"Take 3 for the sea is such a great organisation so I'm really happy to be able to help them out in any way that I can," Ewing said. "Pollution is a global problem and as surfers, we are directly impacted because we compete in the natural environment. Take 3 for the Sea is doing what they can to reduce the quantities of plastics and other pollutants in the ocean and I feel it's a perfect not-for-profit to get behind."

"Thank you, Ethan, for nominating Take 3 for the Sea as your charity, and thank you to WSL for this incredible opportunity to create positive change for our oceans," Beard said. "We were on the edge of our seats watching the series and were blown away by Ethan's performance. This $10,000 can help Take 3 expand our education programs and clean-ups, and protect our oceans from plastic pollution."



Caption: Ethan Ewing will donate his winnings to Take 3 for the Sea.
Credit: WSL / Dunbar

Unfortunately, the third and final event of the series in Margaret River was not able to run within the competition window.

The Australian Grand Slam of Surfing, part of The WSL Countdown, has now concluded as competitors now shift their focus for the opening events of the 2021 WSL Championship Tour season, which will commence in Hawaii later this year.

For more information on this and the WSL Countdown Series, please visit www.worldsurfleague.com.

The Australian Grand Slam of Surfing couldn't happen without the valued support of our partners including Boost Mobile, Tourism and Events Queensland, City of Gold Coast, New South Wales, Tweed Shire Council, Government, Jeep, Hydro Flask, Bonsoy, Harvey Norman, Red Bull, Seven Network, Fox Sports Australia and Sky Sport NZ.
About the WSL
The World Surf League (WSL), established in 1976, is the home of surfing. The WSL is dedicated to changing the world through the inspirational power of surfing by creating authentic events, experiences, and storytelling to inspire a growing, global community to live with purpose, originality, and stoke.

The WSL is a global organization, headquartered in Santa Monica and with regional offices in North America, Latin America, Asia Pacific, and EMEA. The WSL possesses a deep appreciation for the sport's rich heritage while promoting progression, innovation, and performance at the highest levels.

The WSL is comprised of Tours & Events, celebrating the world's best surfers across all disciplines and annually running more than 180 global contests and crowning the undisputed World Champions across all divisions; WSL WaveCo, where innovation meets experience; and WSL Studios, which offers best in class storytelling across competition, lifestyle, and conservation.For more information, please visit WorldSurfLeague.com